With over 60 miles of beaches in Delaware, it can be hard to pick out the best one to get some much needed R&R on your vacation. You don't want to research which beach to go to. You just want to drop your bags here at the inn, slip into your bathing suit, and head straight to where the sand meets the ocean.
Well, it just so happens that we have the locals inside scoop. We know which beaches to gravitate towards for a fun-filled adventure and where to go for serenity and peace. We even know which ones will offer you the best chance of seeing dolphins. So, follow along as we take you on a reader's tour of Delaware's top beaches for your summer vacation.
Rehoboth Beach Boardwalk

Rehoboth Beach Boardwalk is THE place to experience Delaware beach life. It's the quintessential beach experience with a long, rich history of fun and adventure for all walks of life. You'll love this beach because of the proximity to nearly anything you can think of– restaurants, shopping, arcades, & more. Funland, a local treasure, is a small amusement center nestled between shops with a front-row view of the Atlantic Ocean. It's the perfect place to rediscover your inner child while you're soaking up the sunshine!
In addition to the many options for food and entertainment, this beach has a plethora of public restrooms, rental stations for chairs and umbrellas, and even foot wash stations. You'll find everything, including high energy, at what the locals call "The Boardwalk."
The Point in Cape Henlopen

We love this beach because instead of being in the thick of things it's surrounded by nature and peace. You'll forget about the real world right around the corner as you're transported to the deep recesses of R&R.
This isn't a beach you'll likely discover, but one known well to the local avid beachgoers. You'll have to find yourself at the Cape Henlopen State Park in Lewes where you'll pay to enter for the day. The Point juts out where the bay meets the ocean, providing a vast view of the water, lighthouses (that you can tour), and even the Cape May Lewes Ferry. Parking and restrooms are available here and you might even catch a glimpse of someone on horseback.
Dewey Beach

If you're looking for a party scene, this is the spot for you. Dewey is notorious for its high energy and that includes the beach. So, if you don't like the idea of resting or want to surf and skim, make the trek to this beach.
Bars like the Starboard, Rusty Rudder, and Woody's are staples of this town and are all within walking distance to the beach. Fun pool floats and beach paraphernalia hang from the entrances to shops, sidewalks are full of people walking around with salty beach hair, and the smells of the ocean swirl around the eclectic town. Dewey is your place for adult fun.
Gordons Pond Beach
Just north of Rehoboth Beach's boardwalk is Gordons Pond Beach. It's a part of the Cape Henlopen State Park, has ample parking, and offers porta potty restrooms. If you get antsy, there is a trailhead here to explore the state park and get in touch with nature. Or you can walk along the beach and check out the observation towers from WWll.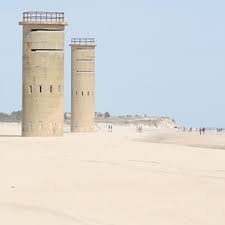 If you've been waiting for the dolphin beach, this is it! Keep an eye out and you'll most likely see a pod of glossy gray fins glide gently in and out of the water. There is also a dog-friendly section, so you can bring your pooch for some R&R too.
At the end of the day, all that really matters is that you find yourself at a beach while vacationing here in Delaware, wherever that may be. Dig your feet into the sand, tilt your head to the sky, and feel the ocean breeze flow around you as the sun melts the frown from your face.
Give us a call here at Mansion Farm Inn 302-664-2540 to schedule your Delaware beach vacation or book online Click Here