COVID-19 PRECAUTIONS UPDATE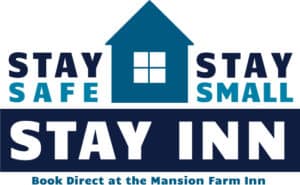 We re-opened  Inn June 1st. Will and David would like to tell you about what we are doing to make your stay as safe, comfortable and care-free as possible. We know there's a bunch of stuff to read here. If you'd rather hear about things directly, please call us at 302.664.2540. And as the owners, well, the buck stops with us. You'll get honest, sincere answers to all your questions and concerns. We'll do our best to take care of you. Finally, with the below information in hand and the flexibility offered by our small Inn, we hope you'll decide that you'll be in good hands with us for your beach trip, getaway, vacation, honeymoon, elopement or any other purpose for your visit.Importantly, please know that you must wear a face covering while in the public, interior spaces of the Inn where social distancing is challenging. This is also true at local businesses. As such, please bring a face covering with you for your stay.
A CLEAN AND HEALTHY ENVIRONMENT AS ALWAYS


The safety of you and our team is our highest priority. To achieve that purpose, we have implemented enhanced cleaning and sanitary measures at the Inn. The American Hotel & Lodging Association has, following CDC guidance, developed a new set of standards to ensure the safety of guests and staff. We have fully implemented these standards at the Mansion Farm Inn.
CHANGES IN OPERATIONS
Under normal circumstances, we'd greet you with a handshake or maybe even a hug. However, for the foreseeable future, we've implemented a self check in and check out process. Details on this are provided in the emails and text you will  receive 3 days prior to your stay with us.
When we see you around the Inn,  Hugs and Handshakes are temporarily being replaced with bright eyes and welcoming smiles..
We won't enter you room for touch ups during your stay. If you wish to receive fresh towels, let us know and we'll take care of your request.
You will have a choice for breakfast as in the Dining Room or one of the two porches alone.
MODIFICATION TO DEPOSIT & CANCELLATION POLICY
During these times of unease, we'd like to give you some peace of mind when you choose to book with us. As such, we've amended our cancellation policy:
Our deposit policy has been reduced to $25 the day of Booking. Remaining balance will be charged to your credit card on file 10 days before your arrival date.
If you cannot join us per your reservation, your stay can be rescheduled or changed to a Gift Certificate towards a future stay without penalty,
For those not rescheduling or taking a Gift Certificate on cancellation, our cancellation window is 10 days before arrival date.
We've also reduced the service charge from $30 to $10 for cancelling outside of the 10 day window,
If you are ill, or required to self-quarantine preventing your stay with us, cancellation service charges are waived.
This policy modification will remain in place until such a time as we feel the world has returned to some level of normalcy.
WHAT IS ASKED OF YOU
In order for you to help us and other guests stay safe:
The State of Delaware requires that all guests wear face coverings while in public spaces where social distancing can be a challenge. As such, we ask that guests wear face coverings as they enter the building and in the public spaces inside the Inn if other guest are around. Note that wearing of face coverings also applies when frequenting area restaurants (though not while eating) and businesses.
To the best extent practical, please practice social distancing while in and around the Inn.
If you don't feel well before arrival, please stay home, but let us know you aren't coming.
PLAN YOUR NEXT ESCAPE WITH US
Although you may not be able to join us right now, we are here and happy to help you plan your next getaway to our "Coastal Countryside Escape." It's always helpful, especially in challenging times, to have something to look forward to! Our location offers you close access to a lot of activities, Three different beaches, Golfing, Bike Trails, Bird Sanctuary, Kayaking and many more. Or simply enjoy relaxing at the Beach or enjoying a glass of wine by the pool. Let us know how we can help!
Wishing you safety and peace,
Will & David