It's no secret that Southern Delaware has exquisite food being prepared by well-respected and renowned chefs in our locally owned and operated restaurants. But did you know that we also have pretty epic treats made fresh out of a truck? Check out these must-try food trucks in Milton, Lewes, and Rehoboth Beach DE.
One of the most unique food experiences is walking up to a food truck and getting a delicious meal on the fly. It used to be only hot dogs and nachos that came out of a mobile stand and that was an iffy event. Now you can get mouthwatering burgers dripping in cheese and homemade sauces, massive burritos with juicy, tender steak, and, YES, a flavor-packed crab cake sandwich. All from a truck parked somewhere at the beach in Delaware…
Now that we've whet your appetite, read on for the four most talked about food trucks here at the beach. They're all so good we recommend trying one each day you're staying with us!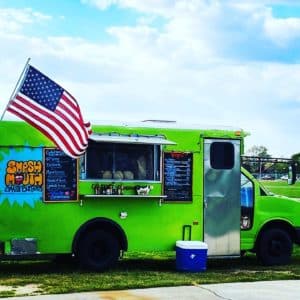 With sandwich names like "Humongous Fungus," you can't help but be intrigued right from the start. Then you take your first bite and it's instantaneous euphoria. Take the Farmhouse burger for example: Jalapeno jam, Taylor ham, sunny egg, and american cheese slammed down on a bun, transporting you to another food dimension. Add the Smash Fries, loaded with house chili, pico, queso, pickled jalapenos, and pickled onions and you may never want to eat in a restaurant again.
Vegetarians and vegans, you're not left out! Smashmouth offers a Beyond Burger that you can customize with fantastic toppings like pineapple salsa and fig jam!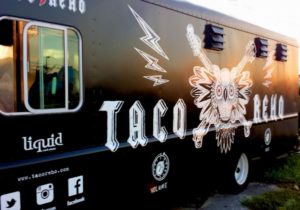 So Cal street food is a one-of-a-kind experience here on the East Coast, so we highly recommend cruising around to find this gem of a food truck. With the flavors Chef Billy packs into his creations, it's no surprise he has served famous faces like Lady GaGa, The Eagles, Nine Inch Nails. Jay-Z, Black Sabbath, Tool, Blink-182, Miley Cyrus, Justin Timberlake, Michael Buble, Prince, and Jane's Addiction. And he's sharing his passion for food with us now via Taco Reho, the epic black food truck filled with fantastic fare.
Try our favorite, the carne fries: hand-cut russet potatoes, cheese, choice of chicken, pork, or beef (+2), pickled red onions, and salsa. YUM!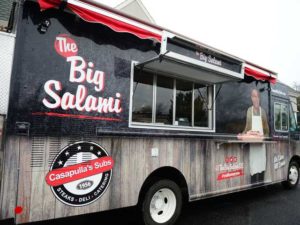 Have you ever had a sub from a food truck? Well, now is your chance! The Big Salami is carrying around all your favorites, from oven-roasted turkey to london broil roast beef. Or take a slight detour and try a corned beef sandwich loaded with corned beef thinly sliced to order, coleslaw, and thousand island dressing. Choose between Swiss, American, or Provolone cheese on your choice of freshly baked rye, white, wheat, or kaiser roll.
You can even get a liverwurst sandwich if that's your style!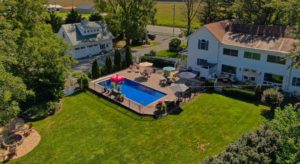 Call us at 302-664-2540 or reserve a suite online and don't forget to bring your appetite!
Your #1 Bed and Breakfast Mansion Farm Inn