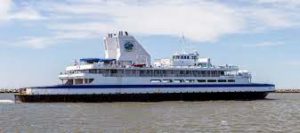 All aboard the Cape May Lewes Ferry near our Milton, DE bed and breakfast!
Have you ever wanted to get to the beach without having to drive? Some days, you might even want to let your bathing suit rest and try something new? Or maybe you're just really into sea-faring vessels?
Whatever your reason for travel, we recommend the unique Delaware beach experience of taking a ride on the Cape May Lewes Ferry. It's great for travel and it's just as swell (get it?) for leisure. You can load your whole car aboard and trek from Lewes to Cape May or casually walk on board for the sheer enjoyment of the ride. Our beautiful boats have the power to make your ferry trip a unique and unforgettable experience.
Waiting to Board
It's recommended you arrive 45 minutes to an hour prior to your scheduled departure time. So, whether you're traveling by foot or vehicle, you're going to wander around at the terminal while you wait. I'd take a walk to the Lewes terminal restaurant, Grain on the Rocks, where you can watch your ferry dock while sitting on the spacious deck with a drink in your hand. Or hit up Lewes Coffee Company for a pick-me-up cup of joe or smoothie.
All this waiting around isn't so bad when you have such awesome perks and an incredible view of the Delaware Bay!
All Aboard!
You're going to know it's showtime when you hear the announcements for passengers to board. If you're a foot passenger, you'll be instructed to make your way to the second level of the terminal where you'll go through the security checkpoint and take the stairs or elevator to the Skywalks. You're ready to board!
If you're a vehicle passenger, you will hear an announcement about 20 minutes prior to departure to head back to the car and wait to board. Security will be making their rounds to check your tickets and dock attendants will then guide you onto the ship and direct you to park. Once you're parked on the ship, unlatch that seatbelt and take a deep breath of salty ocean air.
It's now time to kick back and relax or get your sea legs and explore the ship!
You've Boarded. Now What?
Well, now you enjoy the ride! You have no obligations for the next 80 minutes. Although we do recommend taking advantage of being on a really cool ferry by at least finding a seat on the outdoor decks to look out for dolphins. You'll have views of the water all around you while the breeze tousles your hair and the sounds of rippling water lap at the bottom of the boat. Smithsonian.com even recognized the Cape May Lewes Ferry in 2019 as one of the seven most scenic ferry rides in the United States!
There are several decks on each ship with ample seating to enjoy the views, but you might be more interested in hanging out inside. No problem. Each ship has indoor seating, wifi, food and beverage options, and tv's to occupy you. Grab a vodka and cranberry to peruse the sea-infused skyline. Or hang out near the concessions on the second deck and munch on a burger while catching a game on tv. Just make sure you aren't firing up the laptop and working– you're here for enjoyment!
We know you love to visit our beaches most, and we are fully on board (see what I did there?) with that. But there is so much more to the Delaware beaches. Sometimes it's nice to leave the beach towels in your room here at Mansion Farm Inn, grab your sneakers, and go exploring via a ferry ride. Make a day of it with a round trip on the ferry or hop on in Lewes and off in Cape May for further exploration. Whatever you do, however you travel, you're going to make a splash!
Reserve the Doggie Suite now and bring your beloved pooch with you on your vacation AND ferry ride adventure!