Did you know the Delaware beach area is known for being bike-friendly? In fact, the League of American Bicyclists named Delaware the sixth most bike-friendly state in the U.S. in 2020, and in February of this year, Lewes was named a bronze-level Bicycle Friendly Community. Delaware takes its bicycling seriously, even naming it the state sport! Get ready for a fantastic getaway with these fun ways to explore Delaware beaches on a bike.
So, it's no surprise that this little state is bustling with bikers of all ages and experiences. It's a fun and safe way to explore the area, get to your next destination, and get some exercise. And, if you don't own a bike (or have room to pack one), don't worry– we have lots of bike rental shops throughout the state to get you pedaling on the trails or to the beach.
Speaking of Rentals
There isn't much room left in the car once you pack your beach towels, chairs, umbrellas, and coolers, so finding room for your bike is nearly impossible. That's why it's nice to have a plethora of options for bicycle rentals once you get settled at the Inn. Peppered throughout our beachside towns are plenty of bike rental shops.
Just a few miles away here in Milton, 302 Bicycles rents out bikes and offers free drop-off and pick up for weekly rentals in Milton, Broadkill, Primehook, and Lewes.
 Atlantic Cycles has two locations in downtown Rehoboth Beach and gives you instant access to prime biking locations with gorgeous views.
In Lewes, Lewes Cycle Sports rents out beach cruisers, hybrids, and even E-bikes with accessories such as infant seats and trailers.
Explore the Trails
Junction and Breakwater Trail, a 5 mile stretch between Lewes and Rehoboth, has four access points at Wolfe Glade parking lot, Holland Glade Park, Gills Neck Road, and Hebron Road. This asphalt and crushed stone trail offers some of the most breathtaking views from a bicycle as it meanders through cornfields, forests, and marshland. The Holland Glade Park entrance is also right behind the Tanger Outlets Seaside, so you can shake off the ride with some shopping!
Gordons Pond Trail,
A favorite spot with locals, hugs a 900-acre lagoon and winds through the marshes and pine forests connecting Lewes and Rehoboth. It's a beautiful 3.2 mile bike ride that gets you closer to nature. Even better, it's in the Cape Henlopen State Park which means there's lots more to see and do while you're off the bike.
The Lewes-Georgetown trail is an ever-expanding beauty that will ultimately connect our beautiful beach area to the inland town of Georgetown, clocking in at 17 miles worth of trail. For right now, it's 8.7 miles and shows off its smooth asphalt and concrete surface, perfect for beginners.
If you're extra adventurous or an avid bike enthusiast, you'll be happy to know all of these trails intersect each other. So, you can explore the entire day away without ever having to hitch a ride to the next spot.
Take in the Scenic Attractions
Bicycling around our beach towns means you will have plenty of excuses to stop and take in the scenery. Bring your binoculars, bird watching book, and sense of wonder when you pack because you're going to witness nature at its finest!
Great Blue Herons call Delaware home and you won't have to try too hard to see one while you're here. You can catch them wading in shallow waters, their silvery chest plumage and sharp bills being the only things that move at times. So, slow down when you're biking by the marshy areas and you just might catch a glimpse!
While we are on the topic of marshes, hop off the bike when you're crossing over one and peer down into the water. You'll probably see a few fish.
You'll pass through many lovely forest areas and fields full of crops. On Junction and Breakwater Trail, you'll come upon signs at the trail's edge with educational information on local plants and wildlife. In Cape Henlopen State Park, signs are peppered throughout the grounds with similar information and there are even a few observation decks for you to get a clear view of the beauty of nature. So, no matter where you're biking in the Milton, Lewes, and Rehoboth beach areas, you'll see something magical and breathtaking.
Rest Stops
There are plenty of rest stop options along your bicycle ride. If you're just looking for a place to sit, benches are located throughout our trails, on our boardwalks, and along sidewalks.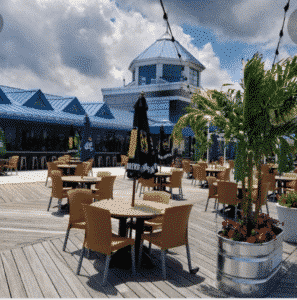 When you've worked up an appetite, restaurants are only a short trot away. Grain on the Rocks at the Lewes Ferry Terminal is just outside the entrance to the Cape Henlopen State Park. The Holland Glade Park entrance to the Junction and Breakwater Trail is just behind the Tanger Seaside Outlet which has The Sip Bar, a coffee and bakery joint. The options are endless, so just follow your nose and you'll find lots of choices for nourishment.
For those of you who just need an old fashioned rest stop, there is no shortage of those either. Public restrooms are abound in the state park, in Lewes, and on the Rehoboth Boardwalk.
Downtown Lewes and Rehoboth
If you're coming to the area, more than likely it's not just for bicycling. It's to experience the Delaware beaches and our many attractions as well. Downtown Lewes and Rehoboth each have their own vibe and way of beckoning in visitors. So, park the bike for midday perusing in two of Delaware's finest towns.
In Lewes, you can find yourself on 2nd Street to enjoy the offerings of toy and jewelry stores, an antique shop and bookstore, plus boutiques, and a quaint little candy shop. Take a tour of the church's graveyard for a glimpse at our cool history and walk the labyrinth on the grounds for some serenity and meditation. Finally, take a seat at the dock to watch the ebb and flow of the water and rest your bones before getting back on the bike.
If you make your way four miles south, you'll happen upon Rehoboth Beach Avenue and the Boardwalk. There are so many local businesses amidst the hustle and bustle that provide many different goods and services. You'll find yummy vegan treats and juice bars, art exhibits, a gym, and even a beachside amusement park. You'll wish you had a bicycle with a basket after your downtown Rehoboth Beach pitstop because you're leaving with at least one new treasure.
Biking your way through our Delaware beach towns is a special treat. You get to zip around the beach traffic, get closer to nature, and experience the area in a whole new way. Route One, the main highway you'll have to take at some point while here, even has a designated bus and bike lane for safer travel.
Bicycling is a way of life here at the beach! So, unpack your sneakers and bike shorts as soon as you get settled here at Mansion Farm Inn. You're going to want to go for a bike ride.
Book your room at Mansion Farm Inn and during the summer we have a salt water swimming pool