Glamping at Mansion Farm Inn
glamp·ing
/ˈɡlampiNG/
noun: glamping
a form of camping involving accommodation and facilities more luxurious than those associated with traditional tent camping.
What is a Class A Motorhome: Class A motorhomes are at the top of the list when it comes to luxury, style and performance in the RV world. Units range in weight from 15,000 to 40,000 pounds and stretch from 28 to 45 feet in length.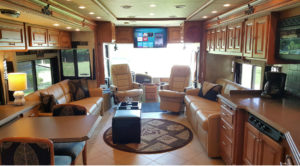 Mansion Farm Inn will definitely be a one of a kind experience. With glamping becoming more popular, Will and David decided to open their home on wheels to guests who would like the camping experience, but with an upgrade to Glamping. First of its kind in the area, you will enjoy our Tiffin Phaeton 40 foot QTH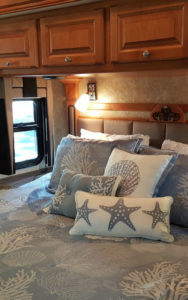 Class A Motorhome. Equipped with two Air Conditioners to give you the comfort of home, beautiful luxury interior including two leather sofas,real tile floors, hand-built solid wood cabinets, full kitchen , microwave/convection oven,dual stainless steel sinks, full size refrigerator, shower with sky light, dual sinks, bedroom has king size form bed with the amazing micro-fiber Comphy Sheets*, large dresser, closet, large tv, tons of storage and even a ceiling fan.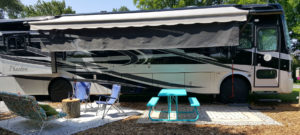 The motorhome has four slide outs making it very spacious for two people, and a retractable awning to relax under outside.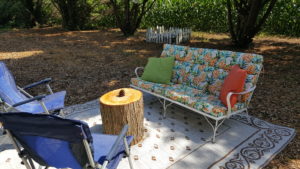 Your site will be equipped with what you would expect of Mansion Farm Inn's reputation of attention to details. You will be able to have your meals outside on a picnic table, chairs and a fire-pit (propane), to enjoy sitting around a romantic fire* under the stars and just a short walk to the luxurious salt water pool. Your view will be of our beautiful grounds, the sound of a bubbling water fountain, a renovated barn and surrounded by cornfields.
So if you have always wanted to go glamping or thinking of buying a motorhome, this is your chance to give it a try.
We have traveled up and down the East Coast during the summer and usually go to different places in Florida during the heavy winter months.
2016 We traveled to Mount Rushmore, Yellowstone National Park, Grand Tetons, Jackson Hole, Colorado Springs, Four Corners, Grand Canyon, Sedona, Santa Fe, Texas, Red Bay Alabama, Knoxville and other cities in between. This is the best way to travel!.