For this year's Firefly Music Festival in Dover, DE, skip the crowds and book your stay at our coastal retreat in the country, just 30 minutes away. At Mansion Farm Inn, you will discover a much better alternative to the typical hotel experience. Each morning, you will be treated to a full, hot breakfast. During the day, you can go for a swim in our heated, salt-water pool, and then relax on the covered porch or in your spacious guest room before the festival. We're also located just minutes from Delaware's top beaches, making this the perfect place to relax, soak in the sun, and enjoy the festival's events. So book your stay now while rooms are still available. This year's festival will take place Thursday, September 22 – Sunday, September 25, 2022, rain or shine.
2022 Festival Lineup
Each year, the Firefly Music Festival brings four full days of fun and exciting activities, and this year is no different. Of course, live music is the main draw, so you can expect literally dozens of bands to take the stage to the joy of thousands of music goers. What's more, this year, the festival will feature over 20 new artists. Here is a sneak peak at the festival's performers.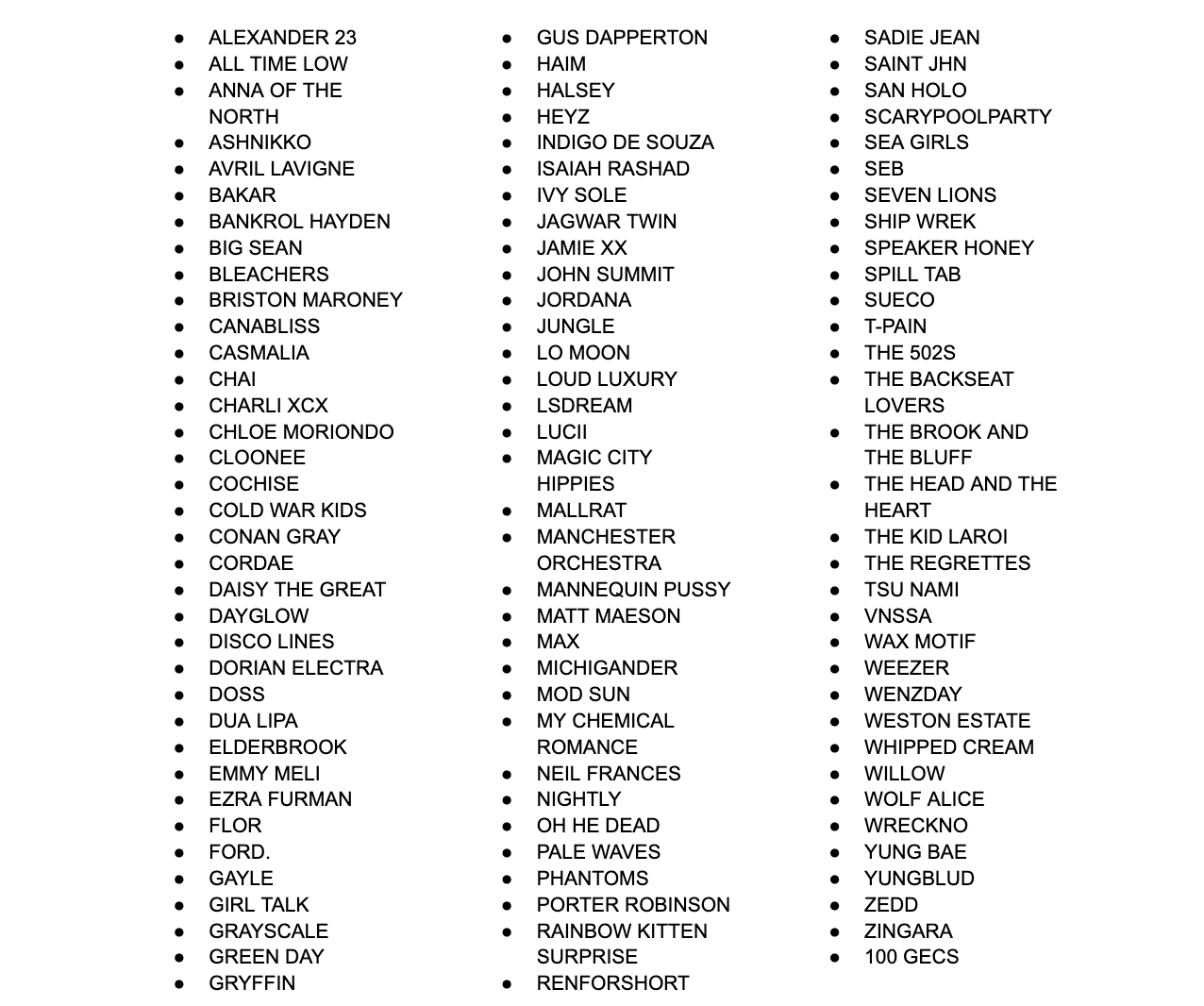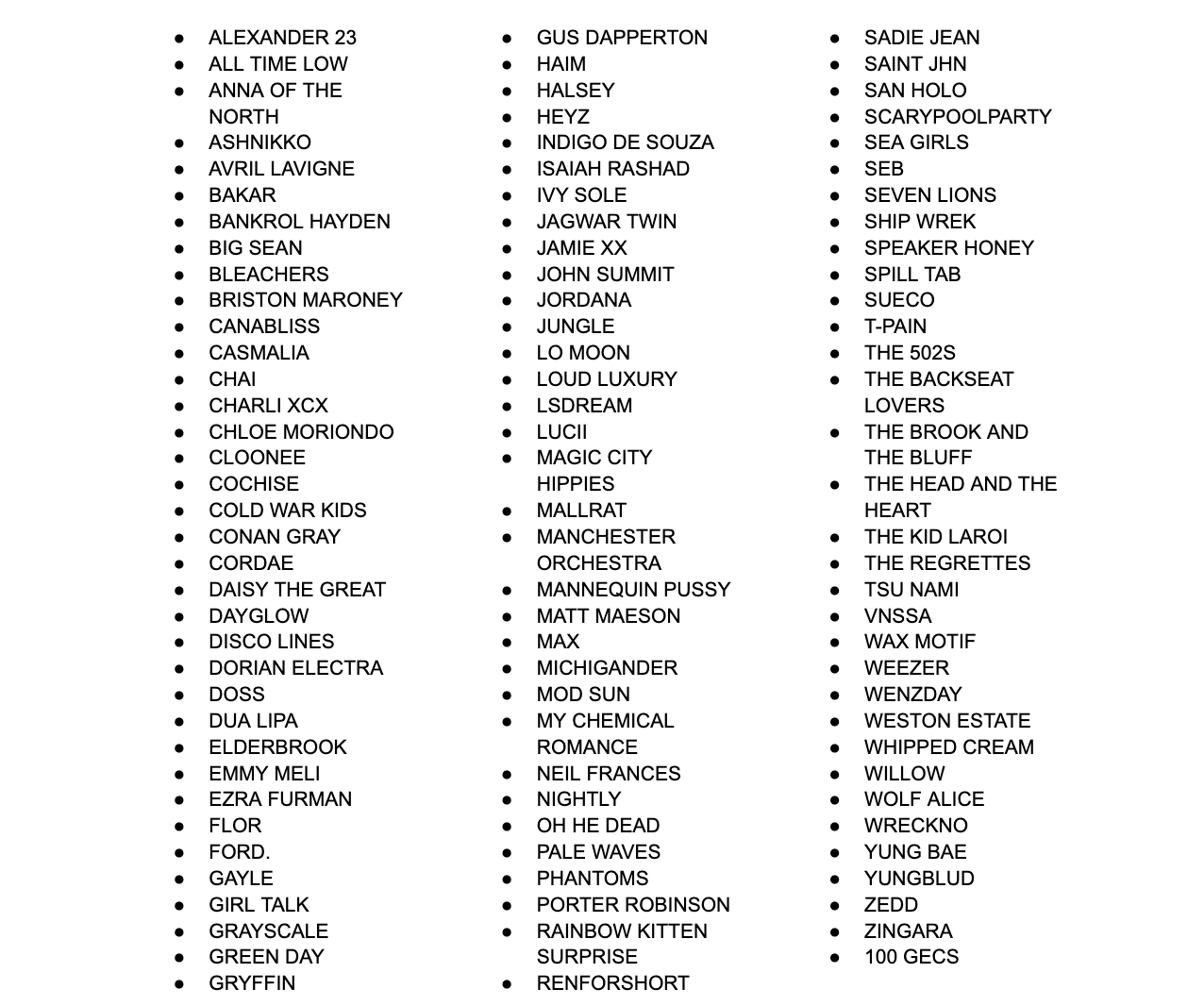 Firefly Festival Activities
In addition to dozens of live performances, the festival features a variety of fun activities. Here are few to whet your appetite:
THICKET SILENT DISCO – Grab a pair of complimentary headphones and let the beat do the rest.
ROLLER RINK – Bring your own skates or borrow a pair as you roll and groove to the sound of music at the festival's Roller Rink.
HAMMOCK HANGOUT – When you need to take a break from the music, hit one of the hammock's to hang out, rest, and recharge.
BAZAAR CENTRAL MARKET – Peruse a variety of unique boutiques for some new threads, bling, or hand crafted items to remember your stay.
EAT AND DRINK – You're bound to get hungry and thirsty with all that dancing! Firefly features a tasty array of food and drinks, from pizza and treats to vegan, gluten-free, and gourmet options, as well as creative cocktails.
Firefly Festival Tickets
There are several ticket options to choose from depending on the depth of experience you're imagining, from General Admission to Super VIP!
General Weekend Admission: $299 – An official Firefly wristband, and access to the festival and performances throughout the weekend
VIP Weekend Pass: $739 – VIP passes offer access to: VIP viewing at the main stages, shaded hang area within the VIP zones, private air conditioned restrooms, exclusive dining options, complimentary bottled water, VIP lounges, and private cash bars
Super VIP Weekend Pass: $2,699 – This is for serious fans. With a Super VIP pass, you'll have access to: premium viewing at the three festival main stages, dedicated concierge service, exclusive side stage hideaway with a private open bar and snacks, daily food vouchers, swag bag with festival goodies, golf cart concierge service,
All Day Parking: $10 at Dover International Speedway
Purchase your festival passes before July 1, 2022 and enter to win the ultimate sweepstakes: a lifetime Super VIP pass!
Firefly Music Festival Location & Contact Info
Location: 1131 N Dupont Hwy, Dover, DE 19901
Email: info@fireflyfestival.com
Festival Hours:
Thursday, 3pm – 12am ET
Friday, 12pm – 2am ET
Saturday, 12pm – 2am ET
Sunday, 12pm – 12am ET
Firefly Music Festival Accommodations
Come Stay at Mansion Farm Inn and let us take care of you in a warm and relaxing atmosphere. If you don't feel like going to four full days of festival activities, then head to the beach for some R&R! We are located only 5 miles from Broadkill Beach, 8 miles from Lewes Beach, and 14 miles from Rehoboth Beach. Check availability.