Milton, Delaware is once again being invaded by zombies. Zombie Fest This fourth annual festival is getting bigger and better with each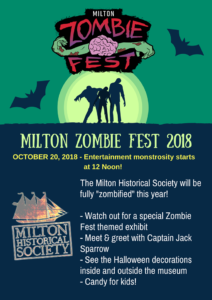 year so,mark your calendar for Saturday,October 20, 2018.
This is an all-day event ( noon til 10:00pm )at the Milton Theater and only $10.00, benefiting some great causes, from Calliope Project(the Milton Theatre), the Milton Fire Department,The Milton Historical Society, and Casa San Francisco. All proceeds, that's 100% goes to these awesome organizations.Full day festival with Food Trucks from Po Boy's to name one, Beer stations, Zombie Walk, Zombie make-up stations, Kid's Zombie Fest. Bring your own chair or blanket to enjoy the great line up and amazing music they have jamming away starting at noon – 10:00pm. LIVE MUSIC BY:
Triple Threat, Musical Theatre Ensemble, Dirk Quinn Band, Universal Funk Order, Wall of Cain, Lower Case Blues, Flatland Drive, Mama's Black Sheep, Christine Havrilla and Gypsy Fuzz, Hot Breakfast, Scrapple, PIRATES PLUNDER Entertainment INCMilton Zombie Fest 2018 at Calliope.
But,to start the ZombieFest off right, pop into the Milton Public Library on Friday evening , October 19th at 5:30 pm where you will meet Dr. Carol A. Pollio, a paranormal investigator and psychic medium. Go on a virtual tour of historic sites of Delaware.
Another cool business that is going to have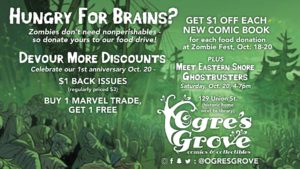 their doors open is Ogre's Grove http://www.ogresgrove.com comics and collectibles.Ogre's Grove opened their doors at last years ZombieFest (Happy First Anniversary Ogre's Grove ) how cool is that and they are right across the street from the festival grounds right downtown Get discounts and meet the Eastern Shore Ghostbusters Of Maryland!
Book your room now at www.mansionfarminn.com
Mention this blog and receive 10% off your stay.