As I ( David ) sat on our front porch on a hot summer afternoon watching the traffic go by, farmers crop dusting their fields and admiring the pretty landscaping, a
fond,memory popped into my head. It was a memory of when i was a child, the front porch was a place where we often gathered at my grandparents' home to chat with your neighbors, watch the cars drive by, discuss which of my brothers'
turn it was to go with my granny and Aunt Caca to L.L. Stearnes Department Store for a Saturday shopping day and of course to catch up on the latest neighborhood gossip. The front porch as well as the back porch for our family was where our family had picnics, my brothers and I played and fought…lol, Pop-Pop did the Morgan Valley Shuffle (a family thing) or just rocked on the glider falling asleep in my granny's lap as she scratched my back. They are wonderful memories I will always have with me. That was 40 plus years ago and I'm happy to say, my grandparents' home still remains in the family. My brother now resides there….but as most front porches, it is now "the forgotten place".
As I have driven over the years, there's always that forgotten flower pot on the front porch begging to be watered or taken over by weeds. When did this all change?
I can only imagine in the early to mid 1800's, what the front porch of the Mansion Farm Inn could tell us. What did they talk about, when the next rain was coming to water their crops or did they fan their faces when the wind kicked up from the dusty road when a horse and buggy passed by? There were no L.L. Stearnes, no Morgan Valley Shuffle and neighbors were few and far between and there were no computers, iPad, TV or air conditioning.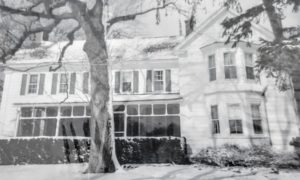 Children only had their siblings and possibly few friends to play with in the corn fields, collect rocks and find the occasional wildflower. They probably sat on the front porch exhausted from the heat of hot summer days from working in the fields.
Do you have fond memories of sitting on your porch you would like to share?
Mansion Farm Inn's front porch today